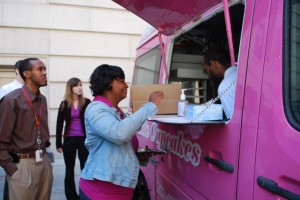 Laurel Hattix
UJW Staff
WASHINGTON — It's lunch time in downtown D.C. and men and women mostly in black suits stream from federal offices. Outside, a sea of workers can be seen furiously tapping on their BlackBerry and other smartphones as they power walk to lunch.
Outside Union Station, controlled chaos in the form of a long line begins to snake around a Pepto-Bismol-pink van. The scene causes federal workers to lean out of windows to catch a glimpse of the truck that looks like it has jumped out of a comic strip. 
It takes something special to make the people of D.C. stop and stare. And, in this case, that something special is cupcakes. To be precise, it's "Curbside Cupcakes."
No one would guess that this mobile cupcake business is the product of former lawyer Samuel Whitfield and his friend Kristi Cunningham. But the idea for food on wheels came from a craving.  The two friends love the sweet mini cakes but did not want to make the trek from work to get them.
Today, Curbside Cupcakes is booming, so much so that it uses Twitter and Facebook to update its ever-changing location. There are 3,580 followers on Twitter and more than 6,000 on Facebook.
In fast-paced D.C. — and a technology-overloaded society — it is no wonder that Curbside Cupcakes has become a success. 
Customer Valeri Parham said that the convenience of the truck coming to her is what keeps her coming back.
"I like the fact that they come to you because I don't feel like marching to the Metro or moving my car," Parham said. 
Other customers agreed that the easy access was what hooked them.
Allison Bishins said she thought it was a good concept and wished that all food would be this convenient. 
"I love it," Bishins said. "I want them to do it for everything." 
Some customers said that part of the reason for Curbside Cupcakes' success is that older adults are connecting to the sweets business through Facebook and Twitter, mediums that were once dominated by teenagers and young adults. 
Sean Williams, a fan of Curbside Cupcakes on Facebook, said he believes that people enjoy the excitement of following it. 
"People follow it on Facebook and feel like they are part of something secret," Williams said. As for the cupcakes, he said they are a "nice treat" but thinks that a lot of the excitement does not come from the product they are selling. 
"I think people are more fascinated with the van," he said.
  Sarah Allen, a self-described cupcake fanatic, tracked down the truck with a few of her fellow employees to try the quirky desert. Her co-worker, Mark Felbinger, came along to try the cupcakes.
Felbinger joked with Allen about her growing excitement as they continued to move closer up in the line.
"She is a cupcake fanatic," Felbinger said. "She blazed the trail from the office to here." 
Allen and Felbinger were not the only work friends waiting in line for the talked-about cupcakes. Co-workers Tim Brynt and Jerome Madden first received word of the truck through another co-worker who sent out a link to the Web site to their entire office. Now, they take orders from their friends.
"Generally, the whole office gets on board," Brynt said.
Madden then joked, "He brings them back and sells them for $5."
Many BlackBerry and iPhone owners waiting in line found a new use for their cellular devices. Several pulled out their phones and read a list of orders collected from their co-workers who were eagerly waiting back at the office for the sugary treat. 
The fun snack has become a conversation starter at many places of work. 
"We have nothing else better to focus on," said Parham. "We can't talk about religion or politics, so we talk about cupcakes."
So what's so fascinating about cupcakes?
Many in line, waiting 15 minutes or more for a snack that can fit in the palm of the hand, could not even give an answer. 
"I wish you could explain it to me," said Laura Root, who brought an entourage from her office after seeing the long line gathering outside her building. She works for a transportation company and got a kick out of the concept. 
"We run a program on transportation so it was fun for us," Root said.
One man in line said he thinks that there's something about the smallish size of cupcakes that intrigues people. 
"I think it gives them the impression that they are limiting their intake of bad stuff," he said. "It's a huge portion of butter cream but it's portion control."
After most people tasted their sugary prize they raved about the moistness of the cupcakes. The favorite seemed to be red velvet with a large swirl of butter-cream frosting.
But not all the people in line were fans of cupcakes. One woman accompanying her friend from the office just wasn't eager to try to give one a try.
"I have never had a cupcake I like," she said.
But upon tasting the sweet treat — only after pleas from her friend to do so — she quickly changed her mind.
"It's good," she sheepishly admitted. 
Another satisfied customer.