By Hojung Lee
UJW Staff
ELLICOTT CITY, Md. — Ever since South Korean figure skater Yuna Kim claimed the gold medal at the 2010 Winter Olympic Games she's become a huge symbol of pride and even commerce to fans in her native country.
"Yuna" goods are everywhere, attracting Korean customers young and old. There are Yuna cell phones, bread and computer fonts too.
The 19-year-old champion's hard work and success on the ice is motivating youngsters in other arenas too, like the classroom.
"As the first South Korean figure skater to come out at this level, Yuna inspired me with her boldness and confidence in competing against many foreign, talented athletes," said Dongsu Hwang, a 6th-grader at Banrim middle school in Seoul.
"I learned that anything can be overcome with effort and a (strong) work ethic like Yuna had for skating," Banrim continued, "and I am determined to study harder next semester."
Yuna Kim skated through two programs (one short and one free skating) at the games in Vancouver, British Columbia, Canada and the performance was immaculate. Her winning margin was more than 23 points.
The performances in February were record setting, besting Japan's Mao Asada solidified Kim's standing as a national hero — and the darling of Korean ice skating.
Dubbed "Queen Yuna" in her home country, she's become the poster girl for more than 40 different television and magazine advertisements. Her face is on ads for products from Samsung air conditioners to Hyundai's Tucson sports utility vehicle. And, she is the representative for the 2018 Winter Olympics bid, the tourism bureau's "Visit Korea Year" and Incheon International Airport. 
Kim brought nearly everyone and everything in her native country to a halt at the moment of competition. 
At 1 p.m. that day employees from the Chosun (Korea's old name) accounting office were fixed on a TV while the South Korean figure skater glided across the Olympic rink.
At the end of her three-minute routine, the judges relay their approval: 78.50 points, a world record in the short skating program ahead of her rival, the Japanese skater Asada.
Asada skated first, and registered 73.78 points to place second in this phase.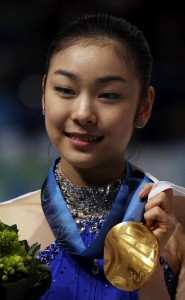 "Even after her rival's best performance, Yuna was confident. I was so proud of her," said fellow Korean skater Haejin Kim.
After Kim's short program at the Olympics, her Cyworld page (the Korean equivalent to Facebook) was bombarded with 80,000 visitors, momentarily knocking down the service. 
The excitement continued into the following day with hopeful fans in South Korea gathering in the Gangnam express bus terminal and Seoul Station to watch Kim's long program – the final quest for the gold medal.
Korean officials said there was a significant drop in Seoul's downtown traffic because millions of Koreans crowded round office TV screens, cafe televisions and mobile handsets to watch Kim's performance. 
"I was driving past the area near HyoChang-dong and the traffic volume decreased in about half for 10 minutes," said Sangchul Shin, 53, a taxi driver in Seoul. 
"No client came when I was sitting at the counter. They were all watching Kim Yuna's play," said Min-gyu Gong, a bank clerk in Seoul. "My colleagues also paid attention to Kim for the five minutes."
Trading volume on Seoul's stock exchange also fell by almost half during Kim's 15-minute routine, according to the Korea Exchange. 
And Kim didn't make them watch in vain. She set a new world record of 150.06 points for the free skate and another world record for the combined total of 228.56 points. (Asada had 131.72 points in the free skate and a combined score of 205.50 points)
"It was overwhelming," said teary college student Jay-chul Chung, 19, watching at a Seoul hospital where doctors and patients stopped to see Kim skate, the Associated Press reported. "I kept saying over and over to my friend sitting next to me, 'That was amazing.'"
"I was happy that she earned her gold that she dreamed of since she was seven," said Bokhee Kim, 55. "I was happier that Kookmin Bank offered 0.2 percent interest rate accruing to my installment savings account to celebrate Yuna's gold."
The viewer rating of Kim's lunchtime free skating hit 36.4 percent, according to AGB Nielson Media Research of Korea. The Internet also was in a tizzy over the local hero. Daum, a leading South Korean portal, hit an all-time record of 440,000 simultaneous log-ins for the live Internet broadcasting of Kim's performance.