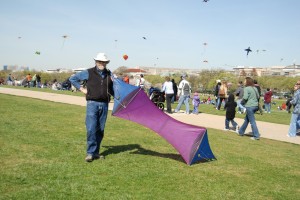 By Sharron Duncan
UJW Staff
WASHINGTON — The sky over the National Mall was transformed on a sunny Saturday in March into a canopy of kites of all different sizes, shapes and colors – with masses of people enjoying the aerial show.
From kite makers to families just out enjoying the sunshine, the crowd seemed to share a passion for kites and their beautiful acrobatics.
For people like Margo and Bevan Brown, the annual Smithsonian Kite Festival is a way of life.  
"My children and even their children love kites," said Bevan Brown. 
His wife, Margo, the first woman president of the American Kitefliers Association, has been attending the Kite Festival ever since it started in 1967.  
Margo Brown was close to the founder of the Kite Festival, the late Paul Garber.  Brown said Garber lived with her for a short time before finding a place of his own. 
"He was a part of the family," she said. 
Living so closely with Garber gave Brown the opportunity to share in his great idea behind the now-annual event. According to Brown, the idea came easily to Garber. 
Brown said Garber was walking down the National Mall with the secretary of the Smithsonian Institution and the secretary mentioned how the space was empty and in desperate need of activity.  Garber suggested a kite-flying festival where "the air is free and the event is free." The rest is history, Brown said.
The Browns have won many kite-flying competitions, both individually and as a family. Margo Brown said the key to having a winning kite "depends on what the kite is made of and what design you use." 
Margo Brown retired from the busy world of kite flying and now dedicates her time to judging kite-flying competitions for adults and especially children.  
"The children need so much encouragement," she said.