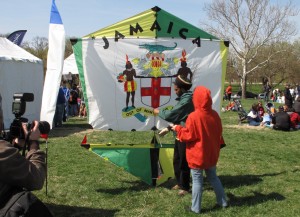 By Khaya Carter
UJW Staff 
WASHINGTON — The 44th annual Smithsonian Kite Festival brought out kites and people of all shapes and sizes.
Thousands of people turned out on the National Mall on March 27, for the yearly event which was held under bright and blustery skies. 
The focus of the festival this year was crowd participation. And from the looks of things, that was not a problem.
The kite-flying competition was broken into brackets for adults and children. 
Handmade kites had to be put together before the competition. Only one kite could be made and flown by each participant.  And a kite that had won a previous award could not be flown again.
Margo Brown knows about kites. She is a former president of the American Kitefliers Association and she has not missed a year in the kite festival's 44-year history.
Over the years she has seen how kites have changed, but there's one thing she likes the most:
"It's the people enjoying themselves and the kite fliers because they're always looking up and never down," Brown said.
The Smithsonian Kite Festival was founded in 1967 by Brown's friend and aviation pioneer Paul Garber, who also was the first head of the National Air and Space Museum of the Smithsonian Institution.
In addition, Garber, who died in 1992, was the museum's first historian emeritus.