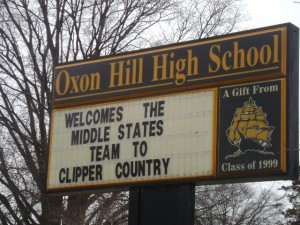 By Brionna Hines
UJW Staff
OXON HILL, Md.—The Oxon Hill Clippers can breathe a little easier now that they have passed their accreditation assessment.
Oxon Hill High School had been under review since March 5 by the Middle States Association of Colleges and Schools (MSA), an organization that visits public and private schools every seven years to assess the schools functions as a whole and to evaluate whether or not the school maintains the standards.
Public and private schools are evaluated to see if they meet certain educational standards to validate diplomas.
"I was relieved we passed," said Jean-Paul Cadet, the school's principal. "You never know how people will evaluate how your school is."
The MSA evaluates schools based on 12 factors: Philosophy/Mission, Governance and Leadership, School Improvement Planning, Finances, Facilities, School Climate and Organization, Health and Safety, Education Program, Assessment and Evidence of Student Learning, Student Services, Student Life and Student Activities, and Information Resources and Technology.
"We've been preparing the students, staff, community, and parents for the past two years with different workshops, advisory classes, surveys, and announcements," said Cadet. "If we didn't get accredited, every students' diploma wouldn't mean anything for the next seven years until we're reaccredited."
Middle States Chairwoman, Kathy Walther, announced on March 8 that she and her team of MSA administrators have "concluded that OHHS has met the 12 standards for accreditation."
"As with all coins, this report has two sides… The visiting team recommended that all stakeholders: administration, faculty and students familiarize themselves with their crisis management plans and work a way in which everyone understands what is expected of each person" said Walther.
"We also recommend that the administration and faculty work together to bring consistency and broad-based accountability to school-wide classroom management plan."
Accreditors asked the students about their knowledge of the mission statement. The school's mission statement reads: To provide a quality education that provides the content knowledge, skills, and attitudes that will enable all students to reach their maximum potential as responsible,  life-long learners and productive citizens.
"I didn't know what this process was until the week before," said senior, Raechel Nelson.
(Despite such high stakes, some students were unaware of this process.)
"It means we can graduate from an accredited school," said Danielle Caster, a sophomore at the school.