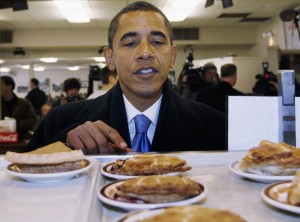 By Josh Sanders
UJW Staff
WASHINGTON — It turns out that the leader of the free world has a weakness, albeit a delicious one.
President Barack Obama "has a weakness for pie," according to news reports quoting senior White House advisor David Axelrod.
"One of the things that happened when he came to the White House is … they have a very great pastry chef. It became a big problem," Axelrod recently told Jay Leno on The Tonight Show.
Apparently, President Obama had to separate from the pastry chef in an attempt to break his bad eating habits. 
Axelrod said that the president, who battles high cholesterol, favored unhealthy foods such as cheeseburgers and pie. 
"I hope the first lady isn't watching," Axelrod said.
Michelle Obama, who has been on a campaign for healthy eating, would not take this news lightly.
The president has been known to tease Axelrod, who has a chunky build, about diet, exercise and his "beer gut," according to news reports.