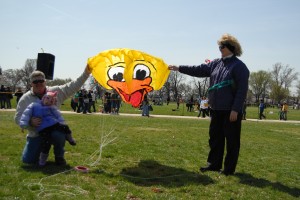 By Sayema Tareq
UJW Staff
WASHINGTON — At first glance the Smithsonian Kite Festival on the national Mall in Washington, D.C. might seem like a muddled conglomeration of kites, but in reality it is a well-orchestrated event that requires much planning and organization.
And it's a good thing. People for as far as the eye could see came to the National Mall to fly kites or to gawk at the extreme creations in the sky at the annual Smithsonian Kite Festival on a sunny Saturday in March.
Without planning, the event would have been a mish-mash of kites and humanity.
There were seven themed, white tents set up in the shadow of the Washington Monument to help hundreds of men, women and children navigate the festival.
At the Information and First-aid tent, volunteers answered questions and gave people directions on how to get around. They also handed out listings of Saturday's events.
At the tent next to it, contestants registered their different kites in the many contests at the annual festival.
At separate tents for the West Indian American Kiter's Association and the National Cherry Blossom Festival, groups of young children helped build their own kites.
The People's Choice tent was set up for the public to vote for their favorite kite, and the winners would be awarded at a ceremony later in the afternoon.
Finally, the Kite Exhibit tent was dedicated to Paul Garber, whose idea for a kite festival on the National Mall led to the first one in 1967, according to Margo Brown, a former president of the American Kite Fliers Association.
The competitions offered at the festival drew kite fliers from places around the country and even around world, including Rhode Island and the Caribbean island of Jamaica.
People flew their kites in one of two fields, one for those competing for prizes and one for those who wanted to show off their elaborate kites.