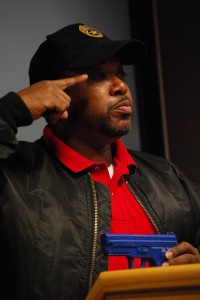 By Sayema Tareq
UJW Staff
WASHINGTON — It was nighttime, and Cpl. Humphrey Rutherford had his gun pointed at a man that he thought might be intoxicated, or worse, a skinhead.
Rutherford orders the man from his car and tells him to kneel on the ground with his hands in the
air.
Then it happened. The young man slowly reaches for his back pocket. It could be something harmless, or it could be a gun.
The corporal has to make a split-second decision: shoot the drunken man on the ground of a parking lot or risk putting his own life in danger. Rutherford's family flashes through his mind. If the man pulls out anything that even resembles a gun, Rutherford will have to shoot him.
"I'd rather be tried by 12, rather than carried by six," he told a group of student journalists recently at a news conference at National Public Radio.
In the end, the man is only reaching for his wallet.
But for Rutherford, 52, this is the daily life of a United States Postal Inspection Service officer. And a dangerous life it often is.
"We go through continuous training to make sure you're on top of your game," Rutherford said.
Rutherford said that every six months, postal police officers go through a firearms qualifications course in which they must score at least 220 of 300 points to pass and keep their weapons.
Officers such as Rutherford are trained at the Federal Law Enforcement Training Center in Glynn County, Ga., for two months. There, he ran, hiked, learned national, state and local laws, and learned how to make quick decisions on the spot.
Had he not been able to make smart split-second decisions, the outcome of the incident with the drunken man could have been completely different.
Using a bright blue replica of his pistol, he demonstrated how to safely hold a gun and keep his fingers away from the trigger.
He stressed the rules of weapons safety: treat all weapons as if they are loaded, know the target and your surroundings, and never point the weapon where unintentional discharge can be harmful.
These rules help police officers protect themselves and the people around them.
The other weapon postal police carry is a baton, and the officers study the body's nervous system to learn where to strike and immobilize suspects without killing them.
Rutherford said his training is tough but necessary for survival.
"That's why it's important for me when I go home at night to rub that little nappy-headed kid," he said.
Related stories:
Postal Police Officer Touts Risk and Rewards of the Job
Officer: Gun Safety 'Paramount' at Postal Service
Police Officers Training Not Like Hollywood
Postal Police Officer Lives for Life's Little Joys
Split-second Decisions Part of the Job for Postal Police Officer
Postal Police Officer Ponders Life or Death Decisions
Postal Police Officer Trains to Protect the Mail and People Receiving It
Postal Police Rely on Safety Too
Postal Police Officer Embraces 'Family' On the Job