By Laurel Hattix
UJW Staff
ASHBURN, Va. – When Amy Fissmer goes to her closet every morning to choose a pair of shoes, she often reaches for a plain pair of canvas slip-ons. They are worn and basic, and it is clear that Fissmer isn't trying to make a fashion statement.
She chooses to wear these shoes because she says she is helping someone else in the world by buying a pair of simple slip-on shoes, made by TOMS.
Whenever someone spends $50 on a pair of TOMS, not only do they get a pair of shoes but the company also promises to send a pair to needy children in a developing country – a business model they call the One for One Movement.
"I actually bought them for the One for One deal," said Fissmer, a senior at Stone Bridge High School here. "I am really passionate about the cause. Showing people in poverty mercy and providing is the first way to open the door."
This idea of marketing for a cause – known as social entrepreneurship – is another attempt by businesses to attract socially conscious young adults. By capitalizing on new business models, companies are cashing in on a tech-savvy generation.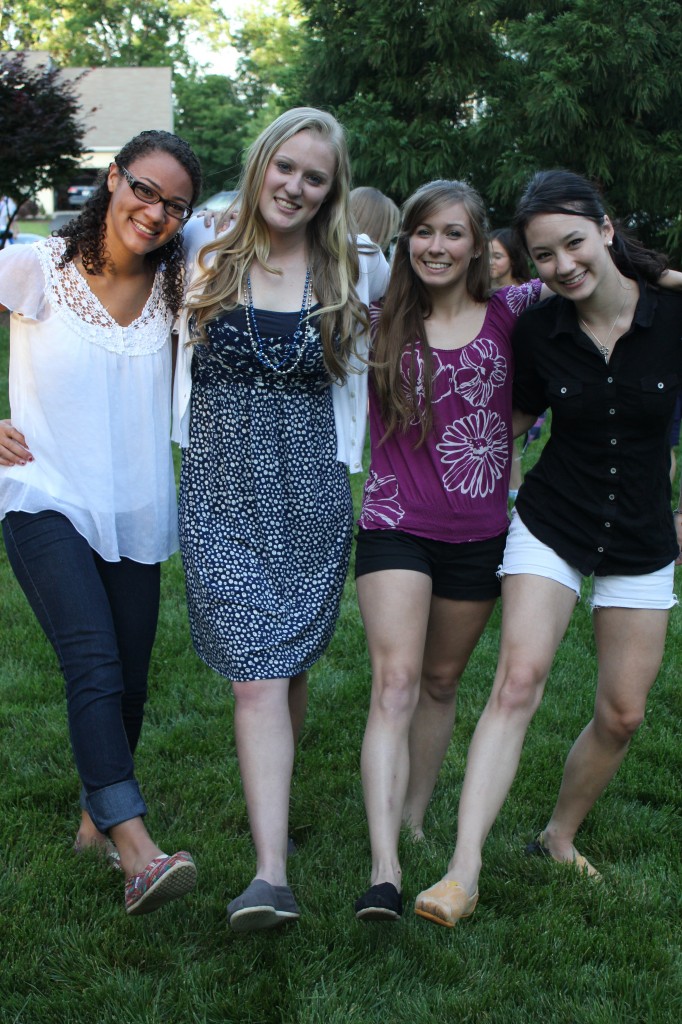 Don Aguirre, brand manager of Archrival, a youth marketing company, defines social entrepreneurship as a business plan using social media to reach a youth market.
"So many different people have their own interpretation about what social is," Aguirre said. "It's about how you interact with your own community. As a youth marketer, if someone said to me, 'What's social entrepreneurship?' I would say it's something to the effect of taking a business and applying it in a social idea."
Social entrepreneurship is s a twist on an age-old desire to help others. Retailers have helped organizations such as March of Dimes raise money for newborn children since 1938.
In the same way, a new generation – transfixed by everything social—is being called on to help raise awareness for a number of causes.
Aguirre says that the original obsession can be traced back to one man.
"Mark Zuckerburg, the creator of Facebook, is the original social entrepreneur," Aguirre said.
TOMS, as well as other companies, are using Zuckerburg's model to reach a generation whose cell phones are an extra appendage.
Calls and emails to Santa Monica, Calif.-based TOMS Shoes were not returned.
But not only has its business model become popular, it is becoming necessary for companies to stay afloat. Businesses can no longer settle for a slogan. The current generation is looking for a relationship.
"TV commercials can reiterate a tagline or a message," Aguirre said. "Facebook is more organic than that. The brand can speak to a consumer more than a TV can. It's the idea of a two-way conversation and that relationship is more valuable than a commercial. If you want to foster a relationship, that's when you go to Facebook or social media, in general."
TOMS Shoes has taken advantage of the new technology available to interact with consumers. TOMS' website includes a wall for consumers to post pictures of them wearing the shoes and a blog where news on the One for One movement is posted. The interaction between producer and consumer online has allowed the company's biggest advertisers to be the customers themselves.
The alternate self-advertising being used represents the changing mentality of consumers.
"The millennium generation moves in this pack mentality," Aguirre said. "They move together. They buy together. There is a trust among them. They will like a link. They will like a brand and that's where they get their idea for buying a brand or a new pair of shoes."
Social media is not just affecting how consumers buy but how businesses create a product.  Today, they are faced with the challenge of not just creating merchandise but an image. Although much more complicated than traditional marketing strategies, developing a personality is paying off.
TOMS has abandoned traditional marketing values in hopes of creating something more than a product. Some TOMS' wearing customers hope to project an image of global awareness and philanthropy. Their choice in footwear has been transformed from a fashion statement to a mission statement.
"I loved the way they looked," said TOMS wearer Jonathon McJunkin, a junior at Stone Bridge High School. "The style is unique and a bold statement, but the ultimate incentive is the true altruism of the organization. Buy a pair, donate a pair. How awesome is that?"
McJunkin is not alone in his motivation for buying the shoes. Senior Kristen Musselman says she heard about the company's One for One business model. Musselman said that she bought the shoes to support the cause.
"I bought these shoes because I read an article about how TOMS is helping people in Third World countries," she said. "I wouldn't buy the shoes if it wasn't for the One for One cause because it was that idea that inspired me to help someone without shoes."
By not defining themselves as a nonprofit, TOMS' business model is raising the same question in many peoples' minds: Is TOMS trying to help those in need or is it just a marketing technique?
Fissmer is clear about her reasons for purchasing the shoes but says she believes that others are simply participating in the fad.
"It's a half and half," Fissmer said. "Half buy it for the cause and half buy it for the looks. I feel like it's an equal split."
Whatever the reason for purchase, Aguirre says he believes that philanthropy is the focus.
"Even if you have corporation 'A' and they have this product and they say we are going to come up with some charity endeavor just because it will help us with selling this product. … At the end of the day, if it's helping a charity, it's a good thing," Aguirre said.
As a marketing director, Aguirre's observations of college campuses have found that TOMS has had success in their "market for a cause" model.
But will this social-media-inspired model guarantee success?
"I think that's the million-dollar question," Aguirre said. "The fact that they are so organic makes them unpredictable; it's nothing you can put your finger on."
For example, Aguirre compared the popular Segway, a one-wheeled transportation device, with the Snuggie. There was no way to predict in five years that a blanket without sleeves would become just as, if not more, popular than a new form of transportation.
"That's what makes this business fun. It's more of an art than a science. It just happens," Aguirre said. "We can't say it's 'A', 'B', and 'C' that will make teenagers buy these shoes. It just happens."